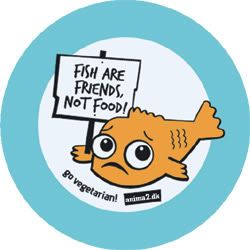 Nunca, nunca, nunca me a gustado comer cosas del mar, ni si quiera antes de ser vegan. De hecho nunca me eh animado a probar algo del mar. Mi familia siempre han sido personas de ir a comer mariscos y camarones, pero yo nunca me anime a probarlos y estoy muy feliz de que no lo hice.
Estaba leyendo el libro "Diet for a New America", que fue uno de los libros que recibí de navidad (al final les mencionare los otros), y llegue al capitulo de "America the poisoned" y este capitulo habla de todo lo contaminado de quimicos que están nuestros alimentos. Lo que me gusta es que te demuestra que no importa cuanto comas orgánico lo mejor que puedes hacer para el planeta y para tu cuerpo es dejar la carne, eso incluye el pescado.
¿Porque? Las autoridades de quimicos tóxicos están de acuerdo a que la contaminacion humana con PCB's se debe al consumo de pescado de aguas que contienen niveles de PCB muy altos. El PCB's es un toxico que causa defectos en nacimientos y cancer. También han encontrado conexion entre altos niveles de PCB's y conteo de esperma bajo. Cuando este químico fue creado, de los 24 trabajadores, 23 resultaron con deformaciones severas en el cuerpo y cara.
Esto no es para que dejemos de ir al mar y a la playa, sino que dejemos de consumir productos bañados en estos quimicos.
El pescado practicamente respira estas aguas, no es saludable de ninguna manera que nosotros consumamos un producto que nos puede hacer tanto daño.
Como les he dicho a mi nunca se me a antojado comer algo del mar, pero se que hay mucha gente que disfruta comer pescado, por eso les quiero compartir esta receta.
Esta es una receta para atún vegan.
Ingredientes:
1 lata de garbanzos
2 cucharadas de mayonesa vegana (si eres vegetariano puedes usar la mayonesa normal)
2 cucharaditas de mostaza
1 tira de apio finamente picada
2 pepinillos finamente picados
sal y pimienta al gusto
Lo primero que debes hacer es moler los garbanzos hasta que agarren la consistencia de atún (puedes usar un tenedor). Agrega el resto de los ingredientes y mezcla. Así de fácil!!!!
Como yo no estoy acostumbrada al atún, le pedí a mi hermana que lo probara y dice que sabe como a atún...a las dos nos encanto y no lo preparamos en un sandwich.
Este sera uno de nuestros platillos preferidos de hacer en un apuro. Es rapidísimo y delicioso.
Este atún vegan tiene menos calorías que el atún de verdad y no tiene mercurio como el del pescado.
Les iba a contar de los libros que recibí de navidad.
Recibí, como ya lo mencione, "Diet for a new america" por John Robbins. Amo este libro como no tienen idea! Lo llevo a todos lados, lo vuelvo a leer una y otra vez. Habla de como las decisiones de lo que comemos impacta a la vida de los animales, nuestro planeta y nuestros cuerpos.
También recibí "Thanking the Monkey" de Karen Dawn. Queria comprar este libro desde hace mucho y estoy muy emocionada porque porfin lo puedo tener. Este libro nos hacer pensar dos veces la manera en la que tratamos a los animales. El libro es muy completo, incluye mucha información como también dibujos y comics que hacen todo mas fácil de entender. Es un libro que te motiva a ser un mejor activista.
Y el tercer libro es "Animal Liberation" de Peter Singer, este libro fue un regalo de PETA, así que "muchas gracias!!!" Este libro ha sido llamado la biblia de los derechos de los animales. Peter Singer presenta varias teorías de porque no es ético el explotar a los animales.
Recomiendo de manera absoluta cualquiera de estos libros.
"We don't need to eat anyone who would run, swim, or fly away if he could."